Hello everyone,
Hopefully someone can guide me on this error. I keep getting a BugSplatRC resource DLL not found on 3 different machines with fresh installs of LightAct 4.3.
They do happen fairly often, somethings for apparently random reasons, for exemple, making a new project.
However, I did found a couple ways to trigger them consistently:
Whenever I try to disable a communication device - OSC, TUIO or MIDI - it will trigger the error.
Trying to enable Transmit to others on an OSC receiver will trigger it instantly.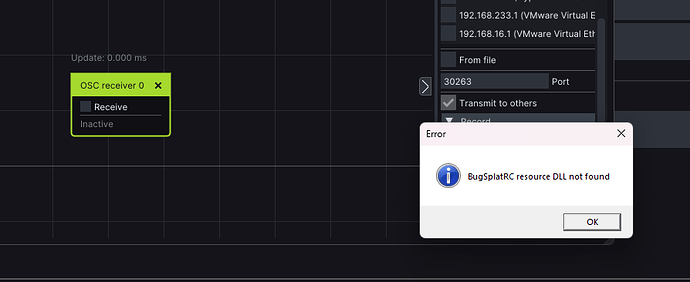 You can see a video of it here: lightact bugreport - YouTube
I've tried reinstalling LightAct 4.3, restart ing my machine. I've also tried multiple computers with existing and new projects and I get the error systematically.
Anyone could point me in the right direction?