Hi all,
I am experiencing a sharp drop in FPS when I enable Video Outputs. My file setup:
7x mp4 video files, 60 minutes each, 24 fps, 2160x3840 portrait format, ~4 GB each file
7x Video Reader → Render to Canvas nodes in one layer
7x canvases (2160 x 3840)
7x Video Outputs, one canvas mapped to each
7x physical screens
As soon as I enable one of the video outputs, my FPS drops from 60 to about 47, even when the timeline is not playing. If I enable a second output, it drops to 36, then 26 with a third output, and on from there.
The GPU and other system resources seem fine: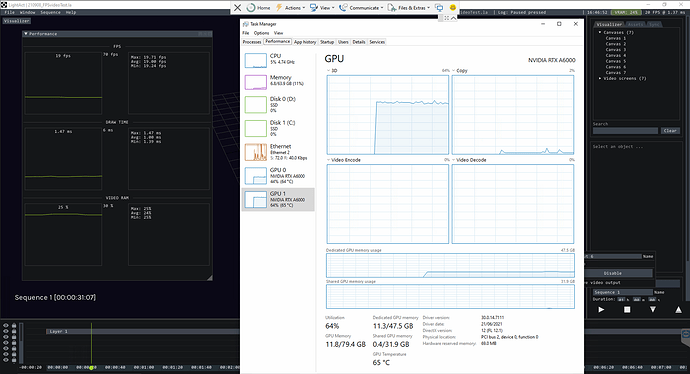 Questions / solutions
file size is too big for each video file?
should I consolidate my videos into a 2D layer / single texture, rather than using 7x Render to Canvas nodes?
this is just too many pixels for LightAct to push at a good frame rate?
Video here of this test.
Thanks!
Scott