Hello,
Is there a way to play a video from the start with LA when an event in realtime occurs in UE, at any time in the timeline ? (And playing the video only if a specified event occurs, not all the time in background would be even better, performance wise.)
What I would like to do is to start a video from the beginning when the player go inside a trigger box in UE.
At my current state, I am able to make the video appear in LA when I go inside a trigger box in UE thanks to your online tutorial where you blend textures depending on a float variable. But I am unable to make it start from the beginning :
I used the Video Reader box and I tried to connect the Start at node to my float reader box, connected itself to the shared memory listener, I thought that it would make the video start at 1s each time I go inside the trigger box in UE (the value of the float is 1 when the player is inside the trigger box), but nothing happen, the video continue to play normally (it's already playing by itslef in background).
I tried different things, but I am unable to make it work… is there a way to do this ?
Here is what I made, (it's a 2D scene, it is then related to another layer)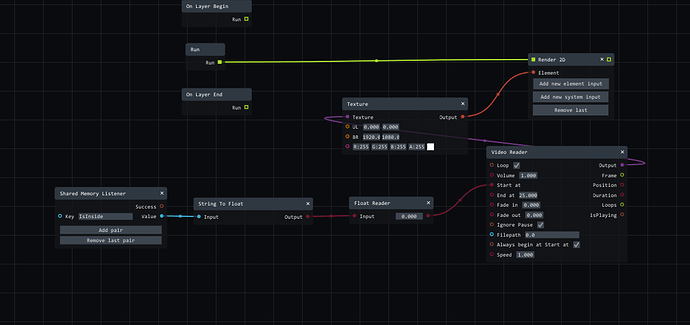 Thank you,
Liam