I'm trying to set up a Realsense D435 depth camera for use with Lightact, and have run into a rather annoying problem. The camera was set up correctly and appears fine in the viewer, but when I try to use it in Lightact the preview is garbled and approximately 30 seconds behind. I have confirmed it was not the device, cable, or port, as a coworker was able to get everything working fine on his machine with the same steps and multiple devices.
I tried re-installing both Lightact and the camera drivers, installing the Realsense SDK, and a number of other common troubleshooting steps. I couldn't find anyone else having the same problem, so I decided to post here to see if anyone has any insight as I continue to try to fix it. My firmware version and software/sdk versions all seem to be correct.
Lightact 3.2.0, camera information is below. It works fine in the viewer, as stated.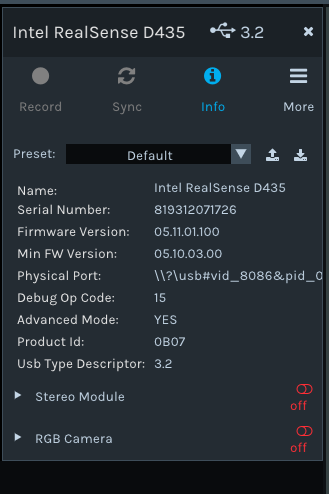 In lightact it looks like this, and has a ton of other artifacting and ghosting on top of ~30s delay.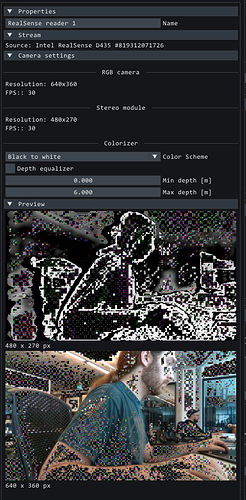 Hopefully someone has encountered this before and I'm simply overlooking something. I cannot seem to find anything different between my coworker's setup and my own. Thanks.